Daoyin Qi Gong Workshop
49 Meridians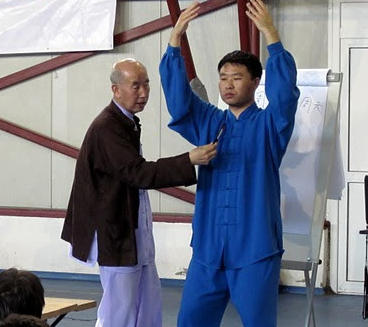 On April 12, 13 and 14 we will be hosting a workshop for 49 Meridians Daoyin Qi Gong. This workshop will be given by Zhang Jian who is the nephew of Zhang Guangde.
About 49 Meridian Daoyin Qigong
These are the original exercises of the Daoyin Yang Sheng Gong system developed by Professor Zhang.
These 49 poses are still considered the most important exercises by Dr. Zhang. The most complete and effective of all the Daoyin Yangsheng Gong forms. It is the basis of all the other forms.
In the 70's Dr. Zhang was diagnosed with lung cancer and was considered incurable by conventional methods. By dedicating himself to the practise of Daoyin he over came his illness.
Because of this the practise of the 49 meridians is considered very good for the prevention and treatment of illnesses of the lungs, intestinal and stomach cancer. It is also beneficial for chronic sicknesses of the breathing, and cardiovascular and digestive systems.
The 49 poses stimulate the circulation of energy to the 12 most important meridians and the 8 exceptional meridians. It has a positive effect on the liver, heart, lungs and kidneys as well as the immune system and blood circulation.
These movements are based on the traditional chinese medical theory and uses the greater energy circulation. Anyone can practise Daoyin in order to maintain their health and vitality. This form is especially beneficial for people suffering from chronic illnesses, chronic fatigue and weakness as a basis for health and to increase their energy.
Time:
Friday 20:00 - 22:00 hrs.
Saturday 10:00 - 15:00 hrs.
Sunday 10:00 - 15:00 hrs.
Costs: 100,- euros for members Liu He Men School, 135,- euros for non-members
The workshop will be held at the Liu He Men Kung Fu School.
For more information or to register mail Henny Eleonora or call +31 (0)655 382664